If you've paid any attention to the news lately, you'll know that millennials have it rough. They've been accused of killing every industry from chain restaurants to diamonds. But when you hear that 44% of millennials are saddled with student loan debt compared to only 13% of baby boomers, it's not hard to imagine why they're not dropping their money on some diamond bling. Surviving as a millennial with college debt can be tough, but we've put together some tips to make things a little easier.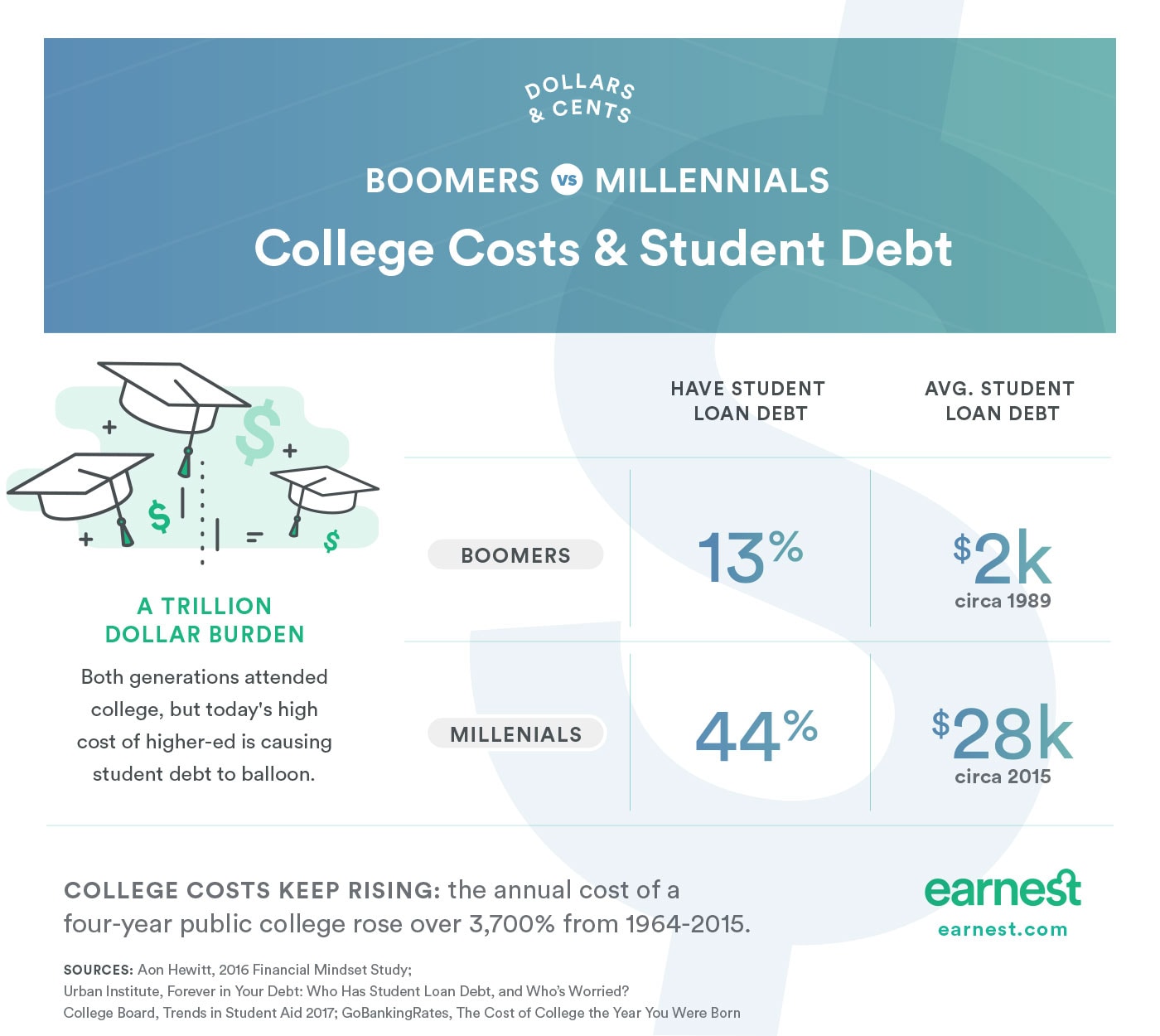 Share Costs with Friends
You probably have a bunch of friends in the same boat as you, so band together to make things a little easier. Having roommates can make the biggest impact on your budget by splitting housing costs, but think about any other expenses that could also be shared. Shopping in bulk can help you save money, so think about sharing a membership to a bulk warehouse like Costco or BJ's. You can also share subscriptions like Hulu, Netflix or Amazon Prime with roommates and enjoy the savings that come with cutting cable.
Research Ways to Lower Your Monthly Payment
If your entry level salary is leaving things a little tight at the end of the month, it might be a good idea to look into options for lowering your monthly student loan payment. Student loan payments are often one of the biggest expenses for millennials, so cutting it down to a manageable payment can make a huge difference in your budget. Refinancing your student loan debt can help you get a smaller monthly payment as well as a better interest rate, which helps you save more money in the long run. Refinancing comes with different terms than your original loan so make sure you read all of the fine print to ensure it's the best choice for you.
Look for Jobs with Student Loan Benefits
This option will have a big impact on your life, but can make a huge difference if you can swing it. With a little research you can find many jobs that qualify for student loan forgiveness from the government or private companies that offer various student loan payment or reimbursement benefits. Working one of these jobs for the first couple years out of college might mean you make a little bit less than you could, but the benefits are an unbelievable perk. This is a great way to get a huge jump on your college debt and can make a big difference in your future.
Give Yourself a Fun Money Budget
When you're drowning in student loan debt it can be easy to think you need to restrict your budget so much that there's no money available for anything fun. This usually results in unplanned binges, whether it be on food, clothes, drinks at the bar, or random items from Target. Instead of completely throwing off your budget, it's better to build a "Fun Money" category into your budget so you can treat yourself with the reassurance that you'll still be able to make your rent payment that month.
Be Smart About Your Grace Period
If your loan has a grace period, it's important to use it to your advantage as much as possible. Use this time to get a job and learn about your debt and what you'll be expected to pay. If you're in a position to do so, start paying your loan before the grace period ends. The sooner you start paying your loan, the sooner it gets paid off and you'll be reducing the amount of interest you ultimately pay. Plus, you'll get used to the payment coming out of your account every month so it won't come as a shock six months down the road.