Genna Gincel, University of Pittsburgh
Genna is a senior at the University of Pittsburgh majoring in English Writing with minors in Film Studies and Theater Arts.  In her spare time she enjoys binge watching her favorite shows on Netflix, baking, having movie nights with her friends, and watching her favorite vloggers' latest videos on YouTube.  She hopes to turn her education into a successful career as a screenwriter and producer.
 Amanda Drazen, University of Maryland
Amanda Drazen is a sophomore at the University of Maryland, College Park majoring in journalism and minoring in astronomy. In her free time she likes to blog, read novels and watch TV with friends.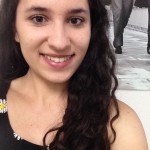 Arianna Takis, California State University
Arianna Takis is a sophomore at California State University, Northridge majoring in Broadcast Journalism and minoring in Communications. She is very passionate about baseball and aspire to be a sports reporter in the future. She really enjoys reading, writing, and going to the beach.